Diving
Joy Dive Maldives
Welcome to Joy Dive Maldives – Dreamland
Newly opened in February 2018, the Dreamland Resort is located in the northeast of Baa Atoll and is only 15 minutes from the famous Hanifaru Bay (UNESCO World Heritage Site), making it a good base for snorkelers and divers for any Manta tours during the South-West Monsoon.
But of course, the Baa Atoll with its abundance of fish also offers diversified dives over the rest of the year. Whether at our house reef, which is equipped with 4 marked entrances or at the more than 60 dive sites, the Baa Atoll offers a diver's paradise – whether beginner diver or experienced diver.
For the most individualized and customized service for our divers, the planning is done on a day to day basis. We offer daily half-day trips (1 – 2 dives), full-day excursions (3 dives), as well as early morning and night dives. Outstanding dive sites such as "Donfan Thila", "Daravandhoo", "Hulangu Nagu", "Aidhoo", "UNESCO Thila" and many others in the vicinity, impress with their breathtaking biodiversity.
The absolute highlight – because unique in the Maldives – is the Hanifaru Bay. Every year between May and November during the South West Monsoon there is strong plankton formation in this bay. This extreme density of plankton attracts hundreds of mantas and maybe even some whale sharks. This spectacle is unique and should not be missed, if you are around the Baa Atoll at this time. Since 2012, only snorkeling is allowed in Hanifaru Bay itself, but the numerous dive sites around Hanifaru Bay offer the possibility for divers to dive with mantas as well.
Discover the Joy of Diving
Orientation Dive
Every diver will start his dive holiday with an orientation dive.
The idea of the orientation dive is to give you a safe chance to practice breathing underwater after a while,
to check the equipment and the correct amount of weights.
Furthermore, we will demonstrate to you the correct use of the Surface Marker Buoy.
Joy Dive Resort Map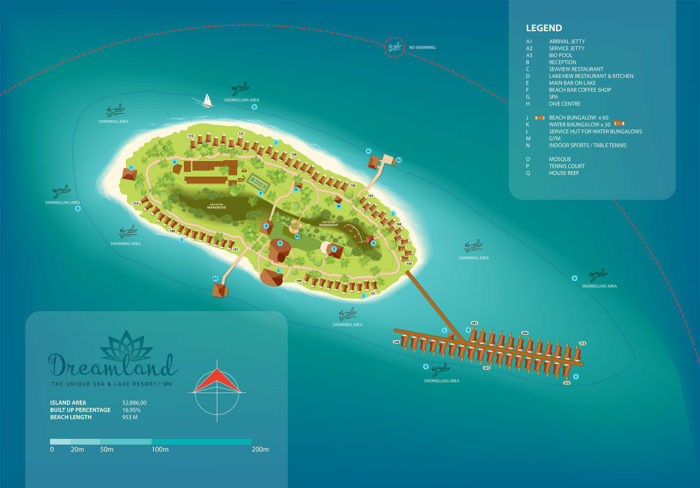 Dive Sites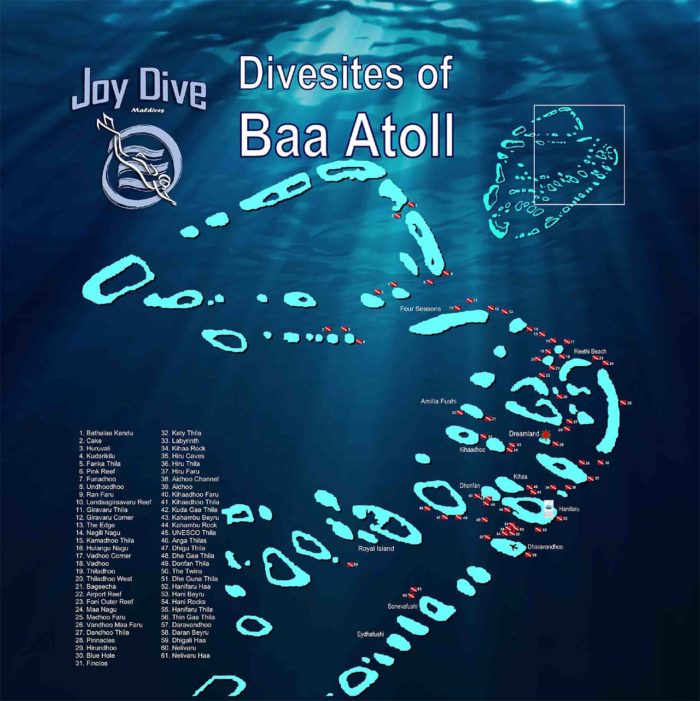 ---
FAQ's – Frequently Asked Questions
Where can I get additional

inform

ation?
For additional information please feel free visit our web-page: www.joydive.com
For current news please check our Facebook page:

Joy Dive Opening Hours ?
JD: 08:00 Hrs to 12:00 Hrs Noon & 14:00 Hrs to 18:00 Hrs
What documents are required to check in for diving ?
JD: Please bring your logbook and your certification card for check in procedure. Then you need to fill a medical questionnaire (see attachment). All listed questions about your medical history at this form should be answered with a NO. If you are not sure about any of the questions or you might have to answer with a Yes, please go to your doctor and ask for a medical which states you fit for scuba diving.
How does the daily dive trips by boat gets scheduled?
JD: We're always trying to schedule the daily dive trips as individual as possible and to consider our guests wishes and needs. We usually do 1 or 2 dives in the morning and 1 dive in the afternoon. Always short term scheduled from one day to the other and in consideration of the weather conditions and currents. Full day trips, Night dives and Early morning dives will be planned individually and on request.
How does it work after the check in?
JD: Your first dive with us is an orientation dive at the house reef, which can be done daily either in the morning or afternoon. We would like to give you the opportunity to start relaxed into your diving vacation, to fine tune the equipment, get to know us and to show you how to dive on our house reef as well as to point out where the best entrances and exits for diving or snorkeling are.
If you do not want to dive at the house reef, from a certain level of experience and a not too far away last dive, the orientation dive can also be completed from the boat. Please just speak to us in this case and we will do our best to accommodate your wishes.
Can I dive independently on the house reef?
JD: From an experience of OWD + Deep or AOWD and at least 30 dives, the house reef can be dived independently with an at least equivalent partner. Your equipment will of course be brought to the entry of your choice and picked up from the location of your exit (within opening hours). We are happy to help with your planning, briefing for the dive site and suggestions for entry and exit.
How does it work with the free dives?
JD: According to our price list every 7th dive is free of charge. This automatically equals a discount of up to 14%.
Will course dives be counted on that discount regulation ?
JD: Yes. The AOWD course for example consists of 5 dives. When you join us for 9 additional dives afterwards (total 14 dives) you automatically will enjoy 2 of your dives free of charge. If you go for a total of 21 dives per person – 3 dives will be free of charge.
How to we pay ?
JD: You can settle your bill nicely and easy at the end of your stay at the resort reception. They accept Visa,- and Master card as well as cash.
Should we book dives in advance – are there any discounts for early bookings?
JD: Since every diver gets a discount of up to 14% directly on spot, pre booking discounts are not necessary. Therewith all of our customer have the chance to enjoy the benefit out of that generous regulation.
What is Hanifaru Bay and what should I know?
JD: Hanifaru in Baa Atoll is an uninhabited island of the Maldives that has a lagoon the size of a football field. Every year between May and November during the South West Monsoon there is strong plankton formation in this bay. This extreme density of plankton attracts hundreds of mantas and sometimes even whale sharks. This spectacle is unique and should by no means be missed.
Since 2009 Hanifaru Bay has been a UNESCO nature reserve. To protect it for generations to come, nowadays it is only allowed to snorkel in the bay. Trips to Hanifaru Bay can be offered every second day during the season. A "token" must be purchased by the visitors to enter the bay. This can be booked via the dive center together with the trip.
When is the best time to dive or snorkel with mantas?
JD: It is hard to give a specific date when the manta season starts and ends, since the occurrence of the mantas depends on the phases of the moon and the monsoon change, which changes every year slightly. However, the experiences of the mantas can be spotted between May and November in the east of the Baa Atoll. In the period between July and November, there will be a mere festival of mantas around Hanifaru Bay and the chances of sightings will increase immensely.
Contact for more information
Phone: +960 770 4554
Email: info@joydive.com
Joy Dive Center
Joy Dive Center
Joy Dive Center
Whale Shark
Turtle
Surgeon Clean
Sting Ray
Nudy
Nudy
Manta Ray
Manta Ray
Manta Ray
Harlequin
Grey Reef Shark
Cuttle Fish
Corals